I listened to a 5-month pregnant woman I don't know bemoan her nausea for several minutes. "What a good problem to have," I thought. I wanted to shoot my hand in the air and say, "I volunteer to be pregnant and nauseous instead!"
October 11th made one month. One hard month. One month of wishing so bad I was still pregnant, and our baby Luke was still alive and growing. One month of watching my stomach get depressingly flatter instead of bigger. One month of putting away the brand-new maternity clothes I couldn't wait to wear, finding a tiny casket, ordering a headstone. One month of trying to find purpose in my life again. One month of fighting back tears even during the moments when you'd least expect it. But one month in which I've realized a lot about myself. One thing is how pathetic and pointless my complaints are.
How many times in high school did I gripe about how unfair my running injuries were....when a paraplegic would have said to me, "Give me your slow race times and your shin splints. What a good problem to have."
When I initially complained that my current apartment has a teeny tiny oven, I then remembered the homeless, who are also the kitchen-less. Or the millions of people who spend their lives cooking over a smoky fire.
And yes, even my complaints about how hard it has been losing a baby, could be met by others with reminders that, "at least you can get pregnant," or, "at least you're married."
Same goes with complaints of college students, to those who never get to go to college and would love to jump in their place.
And the complaints of newly-wed wives about their husbands, or the adjustments of marriage, to the girls who've never been on a date or feel they'll never marry.
And complaints of one's mother, to someone who recently lost theirs.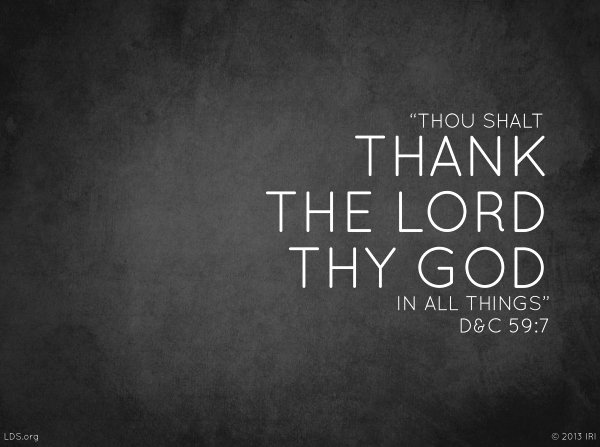 I've learned that it truly is healing to be grateful. Not necessarily grateful
for
things, but an overall grateful attitude in our circumstances, no matter what they be.
Being grateful in times of distress does
not
mean that we are pleased with our circumstances,
Elder Uchtdorf says. He goes on:
It might sound contrary to the wisdom of the world to suggest that one who is burdened with sorrow should give thanks to God. But those who set aside the bottle of bitterness and lift instead the goblet of gratitude can find a purifying drink of healing, peace, and understanding.
More than anything, I've become more grateful for my knowledge of God's love for me. If I have that, I feel like I can be grateful in any circumstance, because I know that what's happening isn't a curse or a punishment, but that God is letting it happen to somehow bless me. Someday, I believe we'll understand the "why's." In the meantime, we can be grateful He knows best.